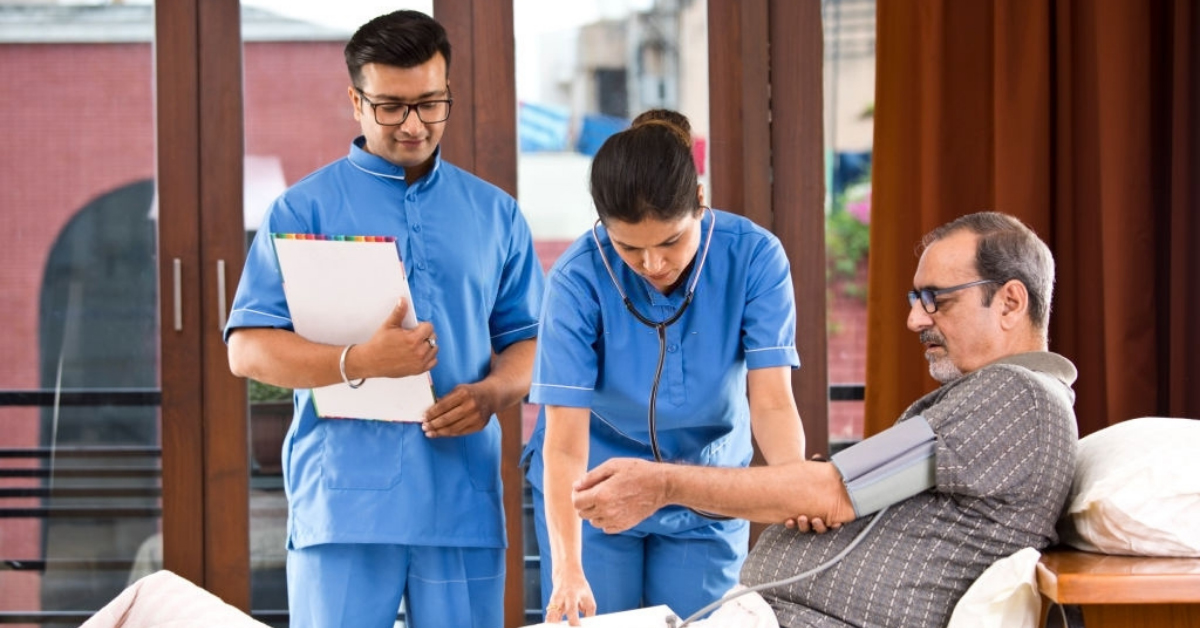 In a country where home care is not prioritized and medical tourism takes a front seat, it results in our people spending a lot on medical expenses. Home nursing services are often ignored or put behind other priorities just because of personal biases towards the availability of such services. This article will be to prove that how can you save money by opting for Home nursing services in Lahore instead of spending millions of rupees on hospitals. The nursing service is found to be much cheaper than staying in the hospital with all the expenses involved. Home nursing service offers 24/7 assistance to elderly people and patients who are discharged from the hospital after an operation or some ailment.
Home nursing services in Lahore are not just limited to monitoring blood pressure, heart rate, etc. The home nursing agencies offer a complete package of medication management, which might include handling the diet chart too. The home health care service in Lahore also takes care of all your emotional needs by keeping you active and happy on a daily basis. Home nursing is focused on alleviating stress; home nursing agencies take care of elderly people by engaging them in various fulfilling activities. These home health care service in Lahore is not limited to mere medication management, it is far more than that.
Private Hospitals in Lahore are Extremely Expensive!
Hospitals are expensive because they have high overheads which people fail to notice while comparing the costs of Home Health Service in Lahore with hospitals. Besides, hospitals charge extra for services that are part of Home Healthcare Services in Lahore. For example, Home health service providers in Lahore do not charge extra for regular injection administration whereas hospitals will make a small amount from these injections.
Home healthcare services in Lahore are eight to ten times cheaper than private hospital rates because of their low overhead costs. Home healthcare services in Lahore also provide care for over 24 hours, unlike the nurses working in hospitals who only work in the daytime. The home health service providers in Lahore can round up their charges to daily rates because of the convenience and flexibility they provide, along with basic infrastructural support such as reliable electricity and clean running water. These healthcare services also save money on transportation because the patients do not need to be shifted from one floor to another in hospitals. These services in Lahore are more economical because they can always save on electricity bills by providing simple, low voltage equipment for patients rather than the highly sophisticated equipment used in hospitals. Home health service providers in Lahore do not need to spend money on medications for patients which saves their clients up to 50% of the total costs.  For instance, A patient with post-operation took home healthcare services for six months whereas a nursing home quoted him 20 lac per month. He opted for a home health service in Lahore that not only provided him support with the basics of dressing and bathing but also his medication management along with a proper infusion of injectables.
Home health service in Lahore reduced his cost to just 7,000 rupees per day. Home healthcare services in Lahore are not only affordable but also more convenient as they can be availed from the comfort of your home – why go through the struggle of going to hospitals when you get similar services at your doorstep?
Make life Easier with Home Healthcare Service in Lahore
Home health care has really made life easy for patients requiring immediate medical care, the convenience of home is given priority over the expensive prices imposed by hospitals. Home healthcare services are designed to meet your individualized needs regarding treatment or rehabilitation.
The home health agencies offer a range of services ranging from skilled nursing to physical therapy, speech pathology and more. The home health services in Lahore is offered by Home Nursing Services called PlanCare, which provides high-quality home healthcare services to the individuals in Lahore for their rehabilitation. Home health care can be an ideal solution to reduce hospitalization rates and get quick recovery at home, spending your time with family rather than in a noisy clinic. PlanCare is a Home Nursing Services is a subsidiary of CARE20, which provides quality Home healthcare services to the people in Lahore.
Home nursing services offer several support options for your specific health care needs, such as:
Daily monitoring and assistance with personal care
Physical Therapy
Medication management
G-tube, V-tube and Liquid feeding
Ambulation Training
End of Life Care
Speech pathology
Individualized Home Health Aide Services
When you or your loved one has experienced a serious illness, injury, or is living with chronic pain and needs assistance to carry out day-to-day activities of daily living, it's time to call PlanCare. Our team will help provide the care that can make all the difference in your recovery process.
We offer home health services for clients all over Lahore who are recovering from an acute condition such as surgery; rehabilitation following an accident; recuperating after hospitalization; elderly nursing facility residents transitioning back into their homes; seniors needing help with bathing, dressing, grooming, medication management and treatment plans, among other things.
PlanCare in Lahore provides care when you need it, no matter where you are. Home Healthcare Nursing Services can be tailored to meet your specific needs. PlanCare's goal is to make the process of receiving home healthcare services easy and affordable both for you and your loved ones.
PlanCare service providers in Lahore provide services for infants as well as adults. Home nursing care is truly a lifesaving option for people who have been hospitalized or have chronic illnesses that need regular follow-up.
Call now 0304 1111949 for having a nurse in your home for patient care or quick medical help  There is a solution for all your medical needs.